Main Architecture
405 N. Wabash Avenue
Suite P2W
Chicago, IL 60611
Phone:
(312) 649-9484
Fax:
(312) 649-9508
Services Provided
New Building, Interior Design, Remodel, Restoration/Preservation, Green/Sustainable Building, Universal Design/Accessibility
Residential Building Types
Single Family, Multi-Unit, High-Rise, Mixed-Use
Commercial Building Types
Mixed-Use, Retail, Office, Industrial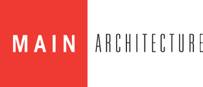 ---
About Us
An architectural practice committed to high quality design and construction, the scope of Main Architecture's work includes new construction, renovations, and interior design. Providing a full range of architectural services, we have completed residential, commercial, and institutional projects for private and corporate clients, developers, city government, and institutions. Diverse in type and scale, our work includes single family residential rehabilitation and new construction, urban and suburban multi-family housing, commercial and institutional structures. Throughout this variety of built work, Main Architecture exhibits a continued commitment to and respect for the quality of neighborhoods and community. Our experience with projects of an historic nature is substantial. We are dedicated to preservation and adaptive re-use as evidenced in several of our projects which illustrate modernization within the context of a unique structure or community. While developing the reputation as an innovative and sensitive design firm, ours remains a service oriented practice. Main Architecture is organized to explore a variety of problem solving design solutions with each client, while promoting a greater opportunity for the exchange of ideas. We maintain an active role during the construction phase of our projects. Striving to enhance the working relationship with those in the field, we encourage a team effort among contractor, client, and architect towards the goal of a quality finished product. Our professional experience ranges over a 38 year period – we were incorporated in 1974 – with offices located in the heart of downtown Chicago. Our current staff consists of two full-time licensed architects and an office manager. We have several part time architecture and drafting interns available on an as-needed basis which makes our ability to "ramp-up" to meet the requirements of several projects at once very smooth. Todd Main, Principal of Main Architecture, is a graduate of the University of Illinois and in addition to his office activities is involved in several City and Community organizations. Todd is associated with the Home Builders Association and numerous City of Chicago committees including the Mayor's Office for People with Disabilities, the Low-Rise Housing Committee, the Building Commissioners Task Force, the Zoning Reform Review and the Building Code Re-Write Review. His projects have received recognition through a variety of awards and have been featured on House and Garden Television. Main Architecture's staff is purposefully structured of diverse, talented, and experienced individuals, contributing to our ability to undertake a wide variety of projects. We pride ourselves on being able to satisfy any architectural need while ensuring the direct and personal attention of all those involved. Satisfied clients, we believe, remain our best investment.
---