Brush Architects LLC, WBE
4200 N. Francisco Ave
Chicago Il 60618
Phone:
3129253070
Services Provided
Construction Management, Remodel, Restoration/Preservation, Green/Sustainable Building, Universal Design/Accessibility
Commercial Building Types
Mixed-Use, Office, Industrial
WE ARE A MINORITY OWNED BUSINESS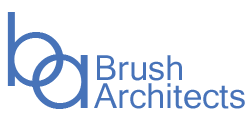 ---
About Us
Brush Architects, LLC is a Woman Owned Architecture Firm that provides specialty design and consultant services for building envelope inspection and restoration as well as interior/exterior historic preservation research, design, and construction services. Professional services include investigation, Critical and Ongoing facade reports, design, drawings design development, bidding and construction documents, technical specifications, and architectural construction services. Hands-on investigation through construction observation is integral to the success of the design and quality control for the project. Envelope investigation and construction observation often requires hands-on examination to be on the outside of the building or in difficult to access locations of the building. Brush Architects is certified to perform scaffold and industrial rope access inspections. Mary Brush is the Owner, Principal, and Architect of the firm. She has 18 years of experience as a preservation leader and envelope specialist. Time, water, and gravity affect all buildings at some point – in 2 years, 20 years, or 200 years. Our methodology includes Investigation, Assessment, Design, and Implementation. We contract directly with building owners and managers for envelope and preservation design, and team with design architects to round out and compliment their skills of full service projects.
---